When Textile becomes Buildings
Soap Film, and its surface defining tension equilibrium, forms of "Tent-Like" Tensile Structures, a genius idea from Frei Otto. Tensile structures generate the smallest surface defined within boundaries, the minimal surfaces or equal stress surfaces with the minimal energy form. The purest and the most efficient method to generate and build tensile membrane structures. With the development of different algorithms and software tools, we generate these form-active surfaces, either as minimal surfaces or in force equilibrium for more freedom of form, directly in our favourite CAD tools, without getting wet with soap and water.
A Futuristic Tent for the Sheikh
2013, Designed by Samuel Fournier
This Futuristic Tent Pavilion was proposed as a reception hall, planned for the vila of a Sheik in Saudi Arabia. The concept suggests a full glass facade as wall enclosure, covered by a double layer tensile membrane (inner and outer) for optimal building physics performances. To increase the penetration of natural lighting into the building, a tensile eye-shaped sky light is integrated into the roof, enclosed by gold tinted glass, and mounted directly on the prestressed opening edge cable.
Details of the steel structural elements are gold coated and all materials used are of the highest quality available on the market. The outer skin is made of PTFE coated PTFE woven fabric. The translucent isolated inner skin is a composite fabric embedded in nanogel granulate - the best thermal isolation material in existence, in addition to being highly translucent.
The outer perimeter of the building has dimensions of 40x40m for a total covering area of approx.1600 sqm.
Podium Tents of the KAAEP, in Mecca, Saudi Arabia
Tensile Membrane Restaurant Terrace Covering
with Rasch+Bradatsch Architekturbüro, 2008
These terrace textile canopies were proposed as an architectural element as part of a great hotel complex project in Mecca, the KAAEP. These white prestressed fabric roofs are floating above multi level restaurant terraces where the customers, protected from the aggressive saudi arabian sun, can enjoy a unique view of the Holy Mosque. The designs were drawn to harmonically suit the design of the tents installed above. The design recalls traditional Arabic tents while using current planning and material technologies: formactive structure, high-end fabric and delicately drawn structural details.
Description: 1600sqm Permanent Tensile Membrane Structure, Custom PTFE Weaved Fabric
Concept by Samuel Fournier Designer, at SL-Rasch.
WHEN AIR MAKE UP BUILDINGS
Virtually frameless structures, inflated buildings are surely the lightest way to achieve any kind of shelters or hall.
Pressurizing skins can be used in construction to achieve air beams, ETFE cushions cladding or simple air panels.
Dare it, we can make it.
Ferrari Tent, Tour-du-Pin, France
A Temporary Educative Tensile Membrane
Samuel Fournier Designer, 2006
Serge Ferrari Textile has organized their own "Ferrari Annual Workshop" and invited their client manufacturers which came from all around the world. The purpose of this workshop was to provide education on all the complexities of designing and manufacturing membrane structures.

This structure was specially developed for that workshop as a teaching aid by virtually grouping, in one single structure, all possible topologies that can be made using textile architecture, including the multitude of different detailing solutions. The participants were also asked to erect the structure themselves so that the complete process of creating these structures was understood.
Description: 100sqm Tensile Membrane Structure, PVC Ferrari 702T2
Engineering: Abaca, Prof. Dr. Nicolas Pauli, Mont-Pellier, France
Fabrication: Ma.Archineering Ingo Lishke
Client: Serge Ferrari Textile SA, Tour-du-Pin, France
Structex
Educative Tent Scaled Models
2003 with Sollierta
The Structext are realistic scaled models of existing circus tents, mainly from the tent manufacturer VSO, France. They were developed for a specific school program where new technicians are trained for the circus industry where students can learn how to erect these tents following a realistic method and protocol. The fabric was specially chosen in order to show tensioning mistakes through wrinkles.
Description: 1:50 scale models of 40 and 50m diameter circus tents. Made of patterned spinnaker fabric.
Institute of Design Montreal Awards /Industrial Design - Specialized Products/Finalist 2004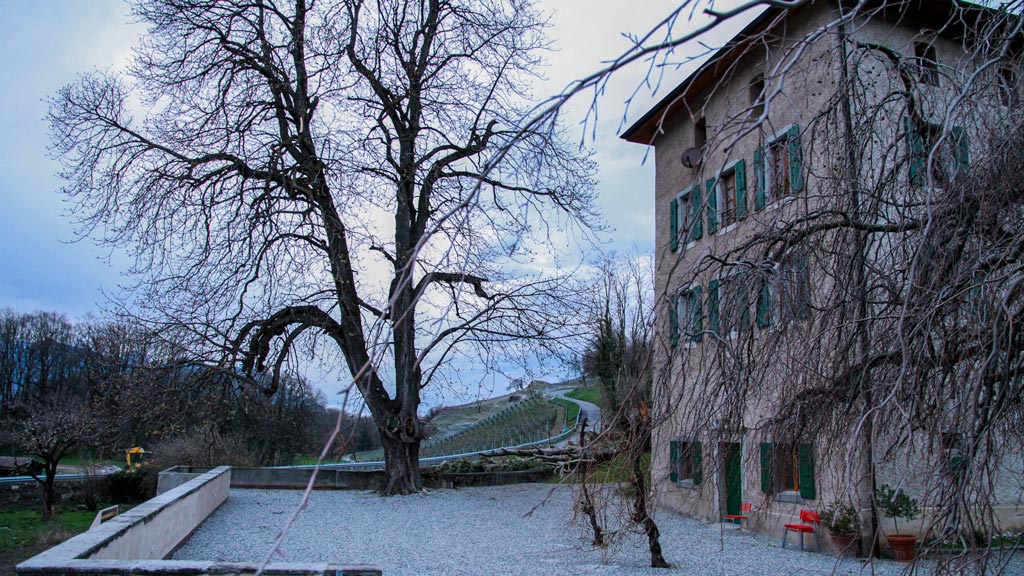 Abbaye De Salaz, Ollon CH
Reception Terrace Covering
2010, Samuel Fournier Designer
The Abbaye de Salaz is a thousand year old property, and for three generations has been a vineyard producing one of the finest wines in Switzerland. It is located in the canton of Vaud, with a beautiful view on the Swiss Alps. This delightful site is also used as an event location for weddings or other celebrations. This proposal offers a lightweight architectural solution to provide shade and cover, beside the main building where events take place and demonstrates how modern architectural membrane structures can blend with ancestral buildings.
Description: around 600sqm of multiple units of Tensile Membrane, Sefar Tenera PTFE fabric, high-end stainless steel detailing.
Client: Abbaye de Salaz, Ollon, Switzerland
The Process, from Design to Fabrication
A Wide Selection of Flexible Composite Materials and Architectural Connection Details, Specially Made for Textile Architecture
According to the design, the textile material is cut, preassembled and welded.
The membrane package is tightly packed, can be easily shipped to the site, erected and put under tension.